Sports massage & Remedial soft tissue therapy COURSE
BTEC Level 5 Professional Diploma in Sports Massage and Remedial Soft Tissue Therapy
Our massage course is designed for anyone with a serious interest in pursuing corrective soft tissue therapy as a career.  
NLSSM will take you from start to finish without having to do multiple massage courses at various levels or having done an anatomy and physiology module, this is a bespoke course that fulfils all the learning outcomes that are based on your future employers requirements, no prior Level 3 or 4 training necessary, (but will stand you in good sted). This course is for both those with previous qualifications as well as complete massage beginners!
Our course offers the whole package, starting with assessment skills in palpation, posture and movement, including how to treat using advanced soft tissue massage techniques & how to implement a rehabilitation program. Be the 'go to person', the massage soft tissue specialist that can offer more.
WHO IS THIS MASSAGE COURSE FOR?
Prerequisites: You are a qualified Level 3 practitioner or have completed the Massage Introduction course, aimed at beginners. This course is for those aged 18+ years.
Massage Introduction Course
If you do not have any massage background you will need to do the Massage Introduction course for beginners, or an equivalent course. If you have a qualification already please check with our office as to whether it is suitable and will meet your needs.
Anatomy and Physiology
Prior learning in anatomy and physiology is a BTEC requirement. We understand that all our students are coming from a wide range of backgrounds and will have various levels of understanding. NLSSM has considered the options and now offers opportunities that will enable students to either be exempt from having to complete the coursework and/or offers opportunities to support your learning needs. More info here.
For further information please contact us if you want to have a chat or arrange to come in and see us.
The course and classes were engaging, exceptional, challenging and fun and has given me the confidence to be a competent therapist. The teaching was high quality, with different methods of teaching, throughout the course. I could not recommend it more.
I have absolutely loved my time at NLSSM so far! Tutors are friendly and knowledgeable and everything has been adapted really well for Covid. Would definitely recommend.
I completed the Diploma Course at NLSSM and qualified in September 2020. Its a fantastic organisation that went above and beyond to support me on my journey to become a massage therapist. The tutors are incredibly knowledgeable and friendly. The opportunities to take part in work experience and student clinics are an invaluable part of the learning. Looking back its incredible how much I learnt!
Students ranged from the young to the old, some with no experience and some with years of experience, but the pace was well set and the disparity of knowledge well handled. Having now graduated I have made some lifelong friends from the course, and am enjoying the community of NLSSM graduates spread nationwide and further afield.
Course STRUCTURE & Duration
It takes approximately 10-11 months to complete the course, during which time you will attend bi-weekly classes and undertake significant home study and hands-on practice. There is a mixture of in-class and online learning.
You will attend class (some are online) for 23 days, split across one day every two weeks. The course is broken down into the following:
19 face-to-face practical workshops in The Annexe
2 full days of online live lectures via Zoom
2 half days of online live lectures via Zoom online
2 bonus lectures that can be done independently
Daily course quizzes and reviews
You can find out which days are in-class and which days are online in the Dates & Location section below, by clicking on the individual course calendars. 
This is a part-time course, and most of our students are able to continue their work and other commitments around the course.
During the course
Throughout the course, you will need to complete 100 logbook hours of practical massage experience. This can be on friends and family at the start, and members of the general public once you pass your first general assessment. We also offer many choices of work or clinical experience to help support your learning. Find out more here. 

You will have 3 written coursework assignments to complete throughout the course at home, as well as 3 in-class practical assessments.

A final written and practical exam, including a final comprehensive case study are to be completed at the end of the course.
Our Level 5 Diploma is supported and accredited by the following associations:
WHAT'S INCLUDED IN THIS MASSAGE COURSE?
During the course, you'll have the opportunity to take part in our student massage clinic. This is a regular clinic arranged by us, so you can gain experience of treating clients in as close to a real clinical setting as possible.
With the added benefit that all sessions count towards the 100 logbook hours that are required to complete the course, there is a qualified massage therapist on site at all times and you can add this opportunity to your CV. Visit our Student Clinic page to find out more.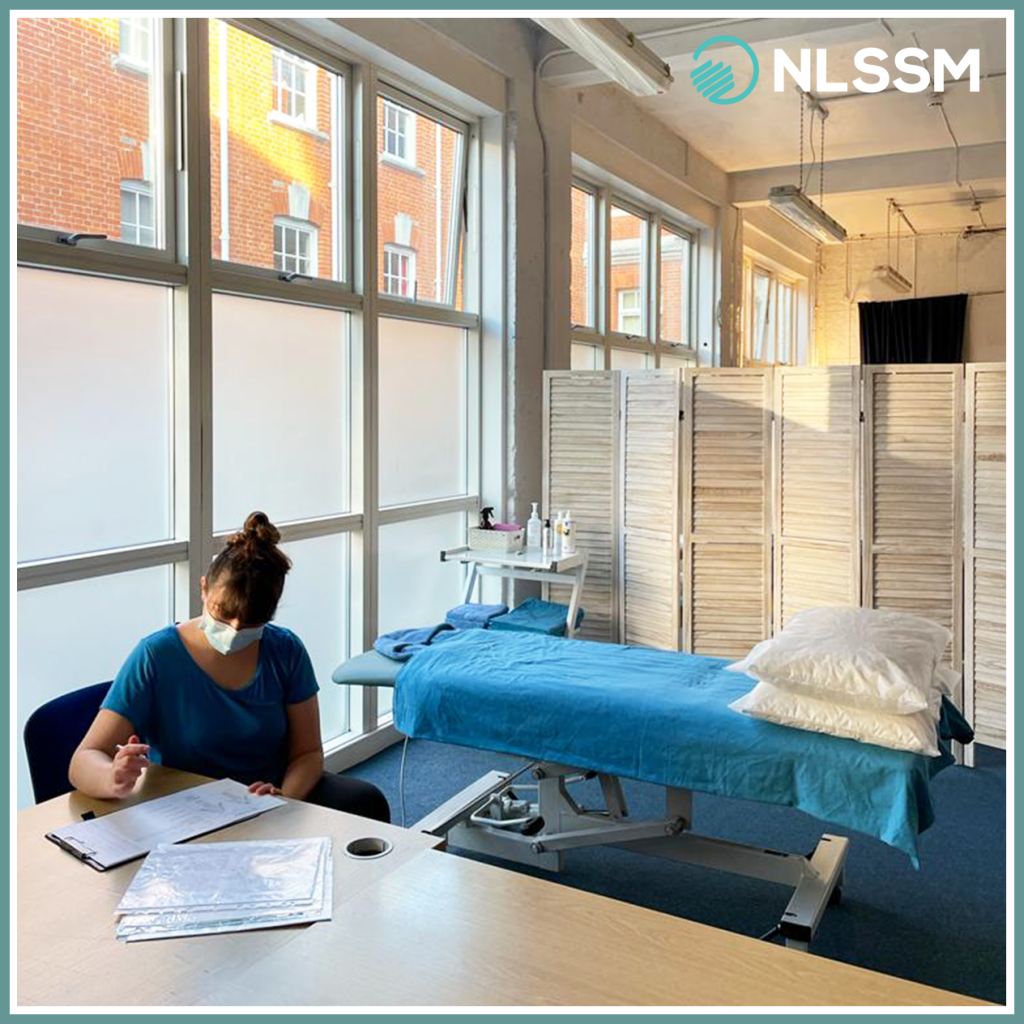 We also offer regular work experience opportunities for our Level 5 Diploma students. Throughout the course, various types of placements are available to apply to, such as working with sports teams, professional dance groups and events like the London Marathon. 
At NLSSM, we recognise the importance of helping to prepare you for life after graduation, and these types of placements offer an invaluable opportunity in giving you real-life hands-on experience of working in manual therapy. This is not a requirement of the course, but we encourage and support all of our students to apply. 
Check out some of our recent feedback from our students about their placements 
The experience was truly useful on so many levels! It both boosted my confidence in being able to deliver effective enough treatments. I particularly enjoyed the easy-going and busy atmosphere and...it allowed me to finely refine and tune palpation, touch, intentionality and adaptability.
Being able to be surrounded by such a professional health care team, and observing their way of working is very rewarding. I keep saying that when I'm in that room I feel like a sponge that wants to absorb it all!
What I noticed since I started my working experience at the RBS is a boost in my confidence! Both on the way I massage them and on the communication level. I feel very grateful for this experience
NLSSM students have access to the following discounts (click each for more info). 
NLSSM graduates are able to become members of the following associations (click each for more info). 
Want to know more about our diploma course?
Check out a day in the life at NLSSM, and hear from the students and teachers themselves!
WHERE CAN THIS QUALIFICATION TAKE YOU?
When you are qualified at the highest level, your options are unlimited!
We have graduates that have gone on to be successful in a number of different careers. Some examples include the following, please note, this is not an exhaustive list!
Our Professional Level 5 Diploma in Sports Massage and Remedial Soft Tissue Therapy takes place at The Annexe, in North London.
Conveniently located just a few minutes walk from Seven Sisters London Underground station and Overground, and just ten minutes walk from the National Rail. Please find full location details here. 
Upcoming Course Dates
We have the following details available for enrolment (click each course for more info):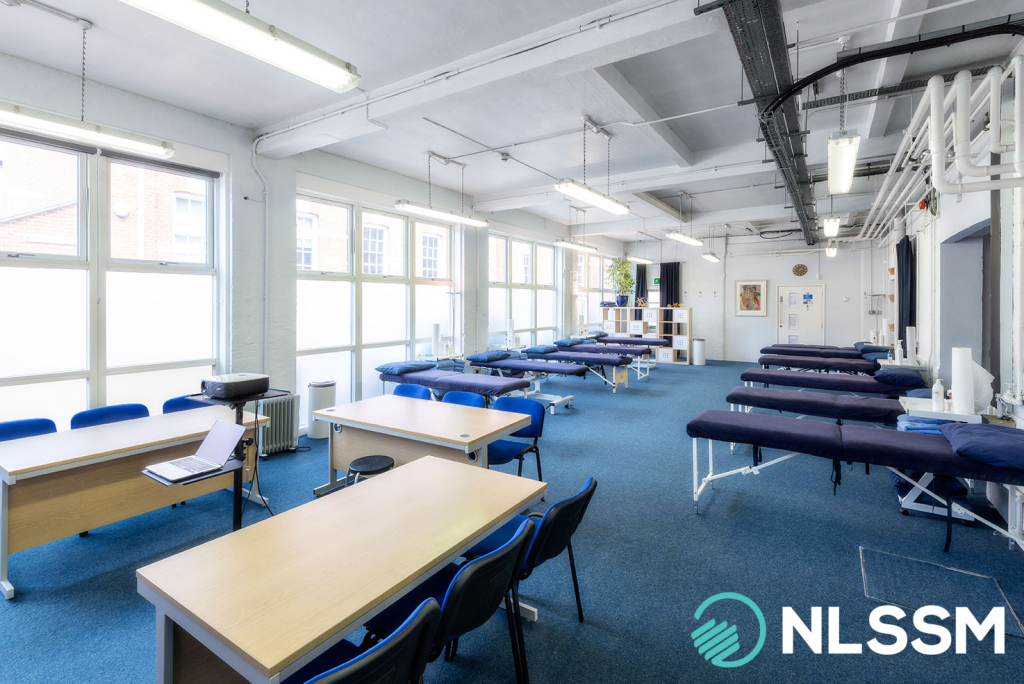 The full cost of this BTEC Level 5 Diploma in Sports Massage and Remedial Soft Tissue Therapy is £2875 + VAT £575 = £3450. 
You will be required to pay a deposit of £500 (non-refundable) when you submit your application.  You have the following options of how to pay the remainder of your course fees after you apply. Details of how to pay using either of these 3 options will be in the welcome letter of the course, which you will have access to after you apply. 
Payment Options
Payment in full via bank transfer
You can choose to pay your course fees in full, after you submit your application and pay the deposit. This must be received a minimum of two weeks prior to the course start date. 
Payment in full via credit card
You can choose to pay the remainder of your course fees in full with your credit card. This must be received a minimum of two weeks prior to the course start date. Please note: there is an admin fee of £50 for this option.
Payment via standing order
We offer a monthly payment scheme where the course costs (minus the deposit) are split over 11 months via a standing order. Your repayments begin on the 28th day of the month that your diploma course commences. You can also make a larger initial deposit payment to reduce the monthly amounts. You will need to advise us of this after you submit your application, and send evidence that this standing order has been set up. Please note: there is an admin fee of £100 for this option. 
Please see our full Terms and Conditions here. 
Availability & registration
All courses in will be taking place at:
The Annexe, NLSSM, The Old Fire Station, Town Hall Approach Road, Tottenham, London, N15 4RX.
To enroll on a course, please click the button below:
We have carried out a full risk assessment to ensure that the highest standards of safety are in place for everyone coming in to the school, the decisions were based on the location, the layout and how we could modify the interior set up so that it meets the new health and safety requirements.