We have carried out a full risk assessment to ensure that the highest standards of safety are in place for everyone coming in to the school, the decisions were based on the location, the layout and how we could modify the interior set up so that it meets the new health and safety requirements.
BTEC level 5 diploma course
BTEC Level 5 Professional Diploma in Sports Massage and Remedial Soft Tissue Therapy Diploma
Our Diploma is designed for anyone with a serious interest in pursuing corrective soft tissue therapy as a career.
NLSSM will take you from start to finish, no prior learning necessary.
Our course offers the whole package, starting with assessment skills, postural and movement, treat with advanced soft tissue skills & implement rehabilitation programs. Be the 'go to person', the soft tissue specialist that can offer more.
Why train with us? Find out more about The NLSSM Difference here.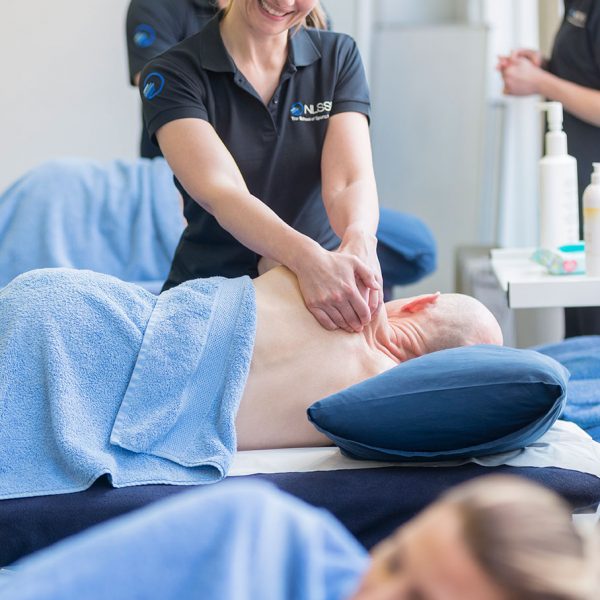 Prerequisites: You are a qualified Level 3 practitioner or have completed the Massage Introduction
course. This course is for those aged 18+ years.
Introduction Course
If you do not have any massage background you will need to do the NLSSM Massage Introduction course or an equivalent course. If you have a qualification already please check with our office as to whether it is suitable.
Anatomy and Physiology
Prior learning in anatomy and physiology is a BTEC requirement. We understand that all our students are coming from a wide range of backgrounds and will have various levels of understanding. NLSSM has considered the options and now offers opportunities that will enable students to either be exempt from having to complete the coursework and/or offers opportunities to support your learning needs. More info here.
For further information please contact us if you want to have a chat or arrange to come in and see us.
It takes approximately 11 months to complete the course, during which time you will attend bi-weekly classes and undertake significant home study and hands-on practice. There is a mixture of in-class and online learning.
You will attend class (some are online) for 23 days, split across one day every two weeks. This is a part-time course, and most of our students are able to continue their work and other commitments around the course.
During the course
Throughout the course, you will need to complete 100 logbook hours of practical massage experience. This can be on friends and family at the start, and members of the general public once you pass your first general assessment.

You will have 3 written coursework assignments to complete throughout the course at home, as well as 3 in-class practical assessments.

A final written exam, final practical exam, and final case study are to be completed at the end of the course.
Our Level 5 Diploma takes place at The Annexe, in North London. Please find full location details here. 
Upcoming Course Dates
We have the following details available for enrolment: 
This is a Saturday course, running from 9am – 4pm. Please find exact course dates here
This is a Sunday course, running from 10am – 5pm. Please find exact course dates here
The full cost of this BTEC Level 5 Diploma in Sports Massage and Remedial Soft Tissue Therapy is £2875 + VAT £575 = £3450. 
You will be required to pay a deposit of £500 when you submit your application.  
Payment Options
Payment in full
You can choose to pay your course fees in full, after you submit your application and pay the deposit. This must be received a minimum of two weeks prior to the course start date. 
Payment via standing order
We offer a monthly payment scheme where the course costs (minus the deposit) are split over 11 months via a standing order. You will need to advise us of this after you submit your application, and send evidence that this standing order has been set up. Please note: there is a fee of £100 for this option.
Details of how to pay for either option will be in the welcome letter of the course, which you will have access to upon registration.  
1. Application and Payment
(i) A Deposit of £500.00 must be made to secure a place on the course.
(ii) Discounts are only valid in accordance with instructions in the prospectus or specific campaigns.
(iii) If an organisation is willing to pay a student's fees it must be made in full and accompanied by the application form at least two weeks prior to the commencement of the course. Bookings cannot be guaranteed until payment has been received from the organisation.
(iv) Please note we do not make provisional bookings. In order to secure your booking payment must be received by the office before you application will be processed. Bookings are processed on a first come first serve basis.
2. Personal Health
(i) At the time of enrolment, to your knowledge, you should have no health condition that could be affected or worsened by the requirements of the course for which you are applying, nor should you be awaiting hospital admission or taking medication that could be contraindicated. If in doubt in any aspect please check with your GP. The School cannot refund fees should you have to terminate the course due to a known health condition becoming worse or a hospital place becoming available.
(ii) For all COVID 19 related circumstances please refer to our COVID Policy
3. Cancellation
(i) If you have to cancel or terminate due to bereavement of a close family member, or serious ill-health (unknown at the commencement of the course), a doctor's certificate of inability to continue will be required. Sometimes, under exceptional circumstances it is possible to transfer to the next course subject to an additional cost of £500.00 and terms of agreement & conditions.
(ii) If cancellation is made within 14 calendar days of the commencement date the full deposit of £500.00 will be retained and there will be no refund available. If a cancellation is made two weeks prior to the commencement date £300.00 of the deposit monies will be retained and the balance of £200.00 will be refunded.
(iii) In the event of the course fee having been paid in full and notice of cancellation is received at least 14 calendar days prior to the commencement date, the school will retain the sum of £300.00 and refund all other monies paid to the School . If less than 14 calendar days notice of cancellation is given the School will retain the full deposit of £500.00 and refund all other monies paid to the School.
(iv) In the event of cancellation once the course has commenced the School will make no refund of any monies paid and the student remains liable for full payment of the course fee.
(v) In the event of the School cancelling a course all monies received (including the deposit) will be repaid.
Availability & registration
All courses in 2021 will be taking place at:
The Annexe, NLSSM, The Old Fire Station, Town Hall Approach Road, Tottenham, London, N15 4RX.
To enroll on a course, please click the button below: