TRANSVERSE SOFT TISSUE RELEASE (TSTR)
An Advanced Massage Technique that clients will love and produces results!
This Transverse Soft Tissue Release course comprises of an online portion, as well as a one-day practical workshop taught by NLSSM Director, Susan Findlay.
Frequently Soft Tissue Release (STR) is regarded as a stretching procedure, but it is much more than that.  The primary objective is to evoke a return of muscle memory by engaging the nervous system and resetting the affected muscles back to their original resting length.  
This will help to prevent nerve compression and referred pain patterns, as well as helping to return normal muscle function.  It is also used in acute & chronic injuries to assist in stopping the pain from centralizing and resulting in the muscles becoming de-conditioned.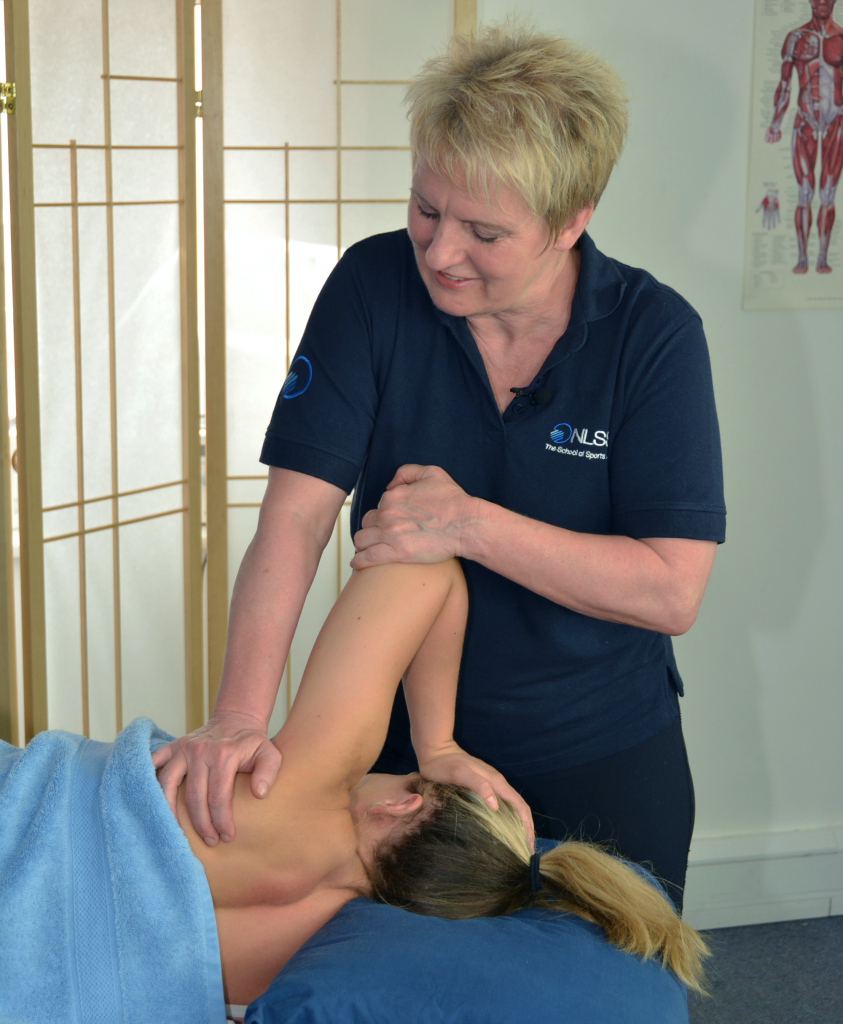 WHY TRANSVERSE SOFT TISSUE RELEASE?
A message from Susan: My version of STR was conceived about 15 years ago when I started playing around with the angles, direction and methods of applying STR, trying to achieve a better outcome that required less effort but felt better for the client.
It turned out that the changes also proved to have a greater and more positive effect on the tissue.
I continue to use the classical form of STR wherein you apply your lock at a 45 degree angle towards the origin of the muscle and then move the limb passively or actively. There are benefits with this method but also significant limitations, so like most therapists, I continued to play around with it, developing my own style.
The purpose of Transverse Soft Tissue Release (TSTR) is to improve the tissue environment without causing undue stress. I have heard multiple times how painful this technique can be from clients and therapists alike. Whilst it is a strong technique, it should not include pain. It should instead feel like the tissue is being given a good stretch without being beaten up!
Please note this is an advanced massage course, the prerequisite is you must have a relevant hands-on therapy qualification or massage experience.
It was fun, informative and felt relaxed but professional. I learnt a lot of new information and techniques. Amazing course, I loved every second of it!
From the outset Susan was professional, very engaging, and patient with all participants. The course was very well structured covering a range of techniques, informative and was conducted in an informal environment which added an element of fun to the day. I found the workshop refreshing and extremely motivating and look forward to using my new found skills.
This is an extremely valiable course to do. I've already started using the technique with my sports massage clients and they feel such amazing benefits immediately. It's such a joy to see how happy my clients are with their treatments and with the additional help of Susan's techniques, this has enhanced the results. Fabulous course.
Susan is a one the most knowledgeable and well informed researched professional and teacher in her field, You really improve your skills and grow with her courses
This course is broken down into an online portion, and a one day practical workshop. You can choose to do just the online, or both the online and practical (course date options below). 
You have 1 years access to all the videos and lectures in the online course. 
This teaches you the reasoning behind the technical application as well as providing you with over 70 videos that demonstrate the practical application and inspire your creativity, to which you can return to time and time again.
The course takes approximately 4 – 5 hours to complete, and should be taken before you attend the practical day. 
The practical workshop will develop your hands-on skills and increase your creativity to become a solution based therapist.
Completing the online course delivers a great foundation in the technique, however the practical workshop is where you can begin to 'stretch' this knowledge into your manual therapy work.
Learn how to apply the technique while maintaining the principles of therapist self-care and client safety. 
Don't forget to follow us on social media!
You can choose from the following options:
1. Online Only – £99
You can choose to just do the online portion of the course, and purchase the practical at a later date (but will be at full price).
2. Online + Practical Workshop – £185
This includes the online course and your choice of practical workshops from the dates listed below.
Upcoming Course Dates (click each date for full details)
See dates at alternative locations on the Susan Findlay website here. 
Availability & registration
If you would like to purchase this course, please click the button below. You will be taken to susanfindlay.co.uk to choose your course and/or course dates. This is also where you will access your online material and practical workshop information. 
 Please note: you may be joining an existing diploma for this one-day workshop.
The pre-requirement is that you have an existing qualification in massage therapy and are aged 18+. If you are unsure if this is a suitable workshop for you then please get in touch with us at cassandra@nlssm.com.