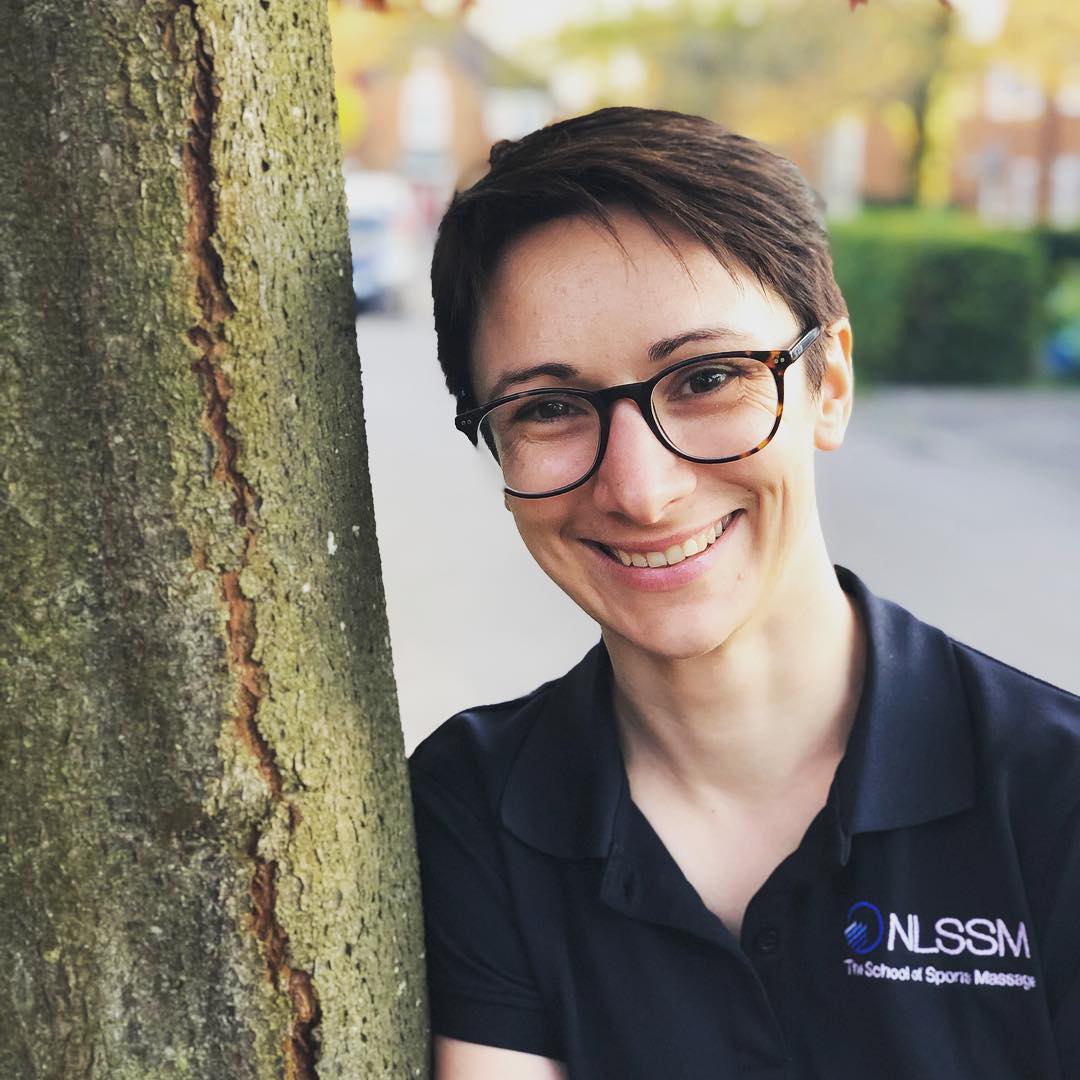 Private Clinic & Professional Sport
After working as a professional actor for several years, in 2017 I decided that it was time for a career change. I'd always loved sport and human biology; from playing hockey and watching rugby to practicing yoga and running half marathons, I was very active and sport had always been in and around my life.
After some research and due diligence, it didn't take long for me to identify that I wanted to pursue a new career in soft tissue therapy – and NLSSM was the best choice for me. Not only was the hands-on teaching known to be excellent with a world class reputation, but the course content was such that I knew I would graduate with the skills needed to kick-start a successful new career.
After completing the Level 5 Diploma in Sports Massage and Remedial Soft Tissue Therapy under the guidance of Susan Findlay and her team, I launched Jenkins Soft Tissue Therapy from my home in Hertfordshire.
Jenkins Therapy saw me successfully treating private clients in my own clinic as well as locations across London and the Home Counties. Outside of clinic I joined Manager Dean Barker's backroom team, working with football clubs Welwyn Garden City FC and then Kings Langley FC, before a season with the 2019 English Championship League Cup Winners, Ealing Trailfinders RFC. The ongoing growth and success of Jenkins Soft Tissue Therapy was rewarded at the end of that year, when I was recognised as a Finalist in the Best New Business category of the national Best Business Women Awards.
Fuelled by my never-ending drive to be the best therapist I could be, I then decided it was time to return to university. Alongside treating clients, I started studying for my MSc in Sports Therapy in the October of 2019.
As for many people, 2020 became both a rewarding and challenging year in equal measure. My husband, Dan, and I discovered we were expecting our first child, and when the Covid-19 pandemic hit that same month, it stopped Jenkins Therapy in its tracks and the world around us seemed to grind to a halt. It was then that we decided to seize an opportunity and relocate to Worcestershire.
In between lockdowns and whilst heavily pregnant, we moved our entire lives and set up home in Evesham, a riverside town just north of the Cotswolds. We welcomed our daughter into the world at the end of 2020 and I completed my masters soon after. Chomping at the bit after such a long hiatus, I leapt back into work, faced with the daunting challenge of relaunching Jenkins Soft Tissue Therapy in a brand-new location.
The hard work paid off, and my business is now the most successful it has ever been.
I divide my time between Jenkins Soft Tissue Therapy, offering Mobile Massage services across Worcestershire & Gloucestershire, whilst working as a Sports Massage Therapist at Emerald Chiropractic in Evesham. As part of the team at Emerald, I provide sports therapy to the men's first team at Evesham United Football Club. Alongside these roles, I am also a casual Soft Tissue Therapist for Sports Wales. In the summer of 2022, I achieved a career highlight when I worked with the Australian Cycling Team in the build-up to the Commonwealth Games in Birmingham. They later went on to win gold.
Several years on from graduating, I remain eternally grateful to my tutors at NLSSM. It is thanks to their experience, expertise, coaching and support coupled with my own passion, commitment, dedication and hard work that I was able to have the launchpad I needed to enjoy a successful career as a soft tissue therapist.