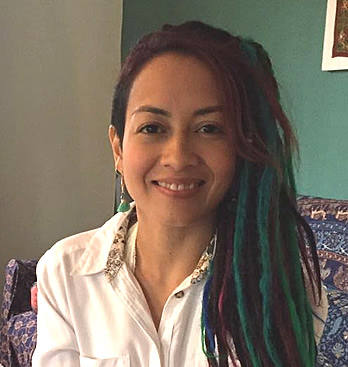 I spent 10 years as a Pilates/Gyrotonic instructor and personal trainer when I desperately needed a change of scene. I understood the power of touch was important. This was evident when I would use tactile cues to help my clients learn about their bodies and their movement. Later on, while dealing with my own shoulder injury, I realized that training my muscles and having basic massage wasn't enough in making a full recovery. There had to be more.  I began with attending short manual therapy workshops. But I found my knowledge of soft tissue was insufficient. Because of this, I couldn't grasp the methods, felt lost and intimidated by manual therapy.
I had the opportunity to spend a year in London so I decided to try and do a more extensive massage course. Malaysia is filled with a plethora of massage styles, so a general massage course wasn't going to cut it in my books. Unfortunately (or not!), ALL the universities and colleges in London that I visited required a full year of basic massage before one could even think of exploring other styles. Looking at their syllabus, this was not only one year I didn't have but it sounded as basic as all the movement therapy courses I've done before. I didn't want to waste my time.
That's when I stumbled upon the NLSSM website. Soon after, I had a meeting with Susan Findlay, who, if you don't know yet, is the heart and soul of NLSSM. After our chat, I felt ready and comfortable enough to take the plunge into NLSSM and their sports and remedial massage therapy. No basic massage background needed! Phew!
Training with NLSSM was challenging, I am not going to lie, but I am STILL, to this day, reaping the benefits of everything I learned from attending the diploma course. The theoretical classes were in depth while the practical classes were accessible. Creating the perfect balance of knowledge and hands on. Each teacher brought a different perspective and persona, which was wonderful because it gave me confidence. Susan and her team made me feel that no matter the background, size, age, capability and challenges, we can all be great massage therapists if we put our minds to it.
Before I left the UK in 2014 to return to Southeast Asia, I made it a must to join the numerous CPD courses held in NLSSM. These gave me a view on other modalities under the manual therapy umbrella. One that caught my attention was the myofascial release technique, CORE Bodywork, by the wonderfully kooky yet highly interesting Noah Karrasch. Since this technique is unknown here, I would offer unique massage with hints of CORE in each session. The response was fantastic! I am now fully on this fascinating path, bringing a combination of  my Sport & Remedial Massage along with Noah's work to this side the world. The future is looking quite exciting!
I know for a fact that this journey wouldn't have happened if it wasn't for my time in NLSSM. I wouldn't have understood the anatomy as well. I would have still been too intimidated to experiment and explore the world of massage. And I wouldn't have met the ever passionate Susan Findlay! Her enthusiasm and drive is addictive! Everything I learned has helped me grow in my career. You may think this dramatic, but NLSSM changed my life. Period.